DGS
With over 25 years of history, we are a group specializing in the design and implementation of services and solutions for security and digital business transformation.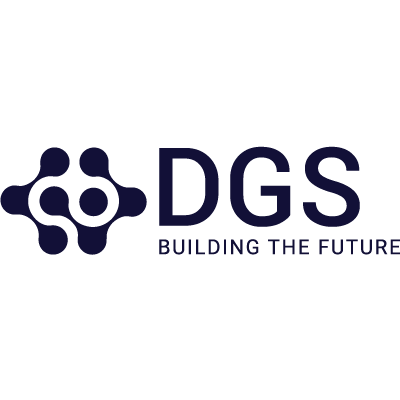 We operate in the market through the parent company DGS S.p.A. and a system of subsidiaries that are rapidly and constantly growing and evolving.
We work with drive and passion in everything we do, to always ensure the excellence of our Services and Solutions in the areas of Cyber Security, Digital Solutions, Advisory ed Education.
To major market segments (Industry, Financial Services & Insurance, Health & Public Sector, Energy & Utilities, Travel & Transportation, Telco & Media, Defence) we offer all the value of our wealth of experience, multi-skills, technological capabilities, reliability and know-how in designing, implementing and managing customized services and solutions to solve clients' specific challenges.
Thanks to our dynamism, deep knowledge of the needs of our target markets and an ecosystem of technology partnerships with leading global vendors, we position ourselves today as a key player in the ICT sector in Italy.
Our focus on innovation and sustainability, supported by investments in Research and Development (R&D) projects, allows us to constantly experiment with new technologies in the conception and implementation of cutting-edge solutions, always keeping up with the future.
We believe in the value and power of people applied to the best technology, and we invest in resources, first and foremost human, to draw from the uniqueness and specific skills of each individual, the true potential that we put at the service of our customers.
WE ARE DETERMINED TO GROW, TOGETHER. 
Overview
25+
Years of growth and Evolution 
---
1,8K+
Over 1,800 employees, with an average of 450+ hires in 2022. 
---
30+
Technology partners in our ecosystem
---
1.7K+
Over 1700 certifications achieved individually and through technology partners 
90+
Researchers and data scientists 
---
24X7
Customer support 24 hours a day and 7 days a week
---
6
Proprietary solutions (ComplEtE®, @Utilities, Open Square, Digital Lake, P3 65 ERP, P 4 HR, P 4 Clienteling, P 4 Loyalty). 
4+
Digital Transformation Platforms: Microsoft, Liferay, ServiceNow, SAP. 
---
UPDATE MARCH 2023
DGS STEP BY STEP
Milestones in our history of constant growth and innovation.
We acquire Soft Strategy Consulting, the IT consulting division of Soft Strategy. 

We acquire I3, a system integrator specializing in Product Lifecycle Management applications. 

We acquire Sarce, expanding our geographic coverage in northern Italy and our portfolio of ERP solutions. 

We establish We.Do Advisory, originating from the spin-off of our Management Consulting Business Line, specializing in IT Security and Governance, Cyber and Data Protection and Process Excellence services. 

We acquire SMC, Platinum Partner of Liferay, expanding our geographical coverage in Northern Italy (Treviso, Venice) and our portfolio of offerings for the Industry market. 

We acquire Tow 80, the first reality in Italy dedicated to the ServiceNow platform. 

We acquire InnovatesApp, one of the main SAP partners in Italy. 
Digital Thinks is born, enriching the group's offerings with services in IT Education. 

We acquire LumIT enhancing our presence in the Industry market and expanding our expertise in Security Automation. 

The new strategic plan 2021-2025 is born with the goal of entering the Top 10 leading companies in ICT services in Italy. 
ComplEtE® our end-to-end solution for Supply Chain Management is born. 

H.I.G. Capital Fund acquires a controlling stake, giving further impetus to the Group's development and growth strategy. 
The Management Consulting business line is born with which we enter the management consulting services market. 

We acquire Porini, a leading Microsoft Partner in Italy, strengthening our presence in the Manufacturing market, particularly in the Fashion & Textile sector. 

115 mnl€ turnover
We acquire Maneat, enriching the group's offering with PLM components aimed at the Manufacturing sector, expanding our presence in this market and further extending our geographical coverage in Northern Italy. 

We sign a strategic collaboration agreement with Porini, a leading Microsoft Partner in Italy, involving the sharing of their offer portfolios and the development of cutting-edge solutions aimed at the Manufacturing sector. 

97 mln€ turnover
We acquire Maneat, enriching the group's offering with PLM components aimed at the manufacturing sector, expanding our presence in this market and further extending our geographic coverage in northern Italy. 

We sign a strategic collaboration agreement with Porini, one of the leading Microsoft partners in Italy, involving the sharing of the offering portfolio and the development of cutting-edge solutions for the manufacturing sector.

97 mln€ turnover
Digital Solutions and Cyber Security Solutions business lines born.
 
28.6 mln€ turnover